This is a temp check on a proposal to dissolve the Community Working Group (WG) at the end of the First Term of 2022.
Rule 2.2 of the current Working Group Rules relates to the formation of working wroups, and states that:
a new working group must demonstrate that … the work cannot be undertaken within an existing working group.
Rule 3.1 provides that working groups may be dissolved by passing a social proposal.
After consulting with the Lead Stewards of the Community WG (@Coltron.eth) and the Ecosystem WG (@slobo.eth), I am confident that the work carried out under the Community WG can be undertaken within the Ecosystem WG. This proposed structure helps streamline the DAO, so WGs are better able to fulfill the intentions set out in the ENS DAO Constitution.
To be clear, this is not a negative reflection of the Community WG. This proposal is based on streamlining the organizational structure of the DAO.
Below is a podarchy visualisation (thanks Orca Protocol!) of how the WGs of the ENS DAO would look for the Second Term of 2022 if the Working Group Rules set out in this draft proposal are passed and the DAO is taken down to three working groups. You can also view this visualization in Figma.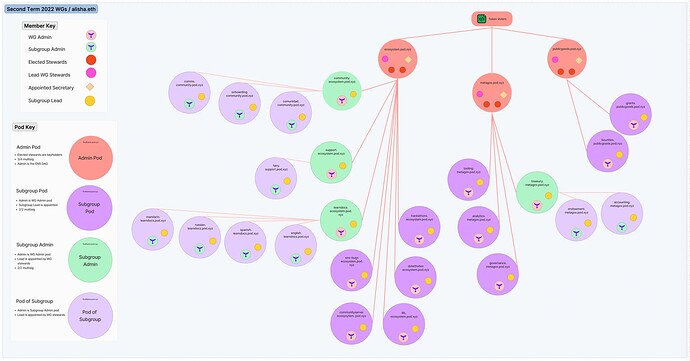 Comments and feedback are appreciated.