ENS DAO Small Grants Is live!
The first ENS DAO Small Grants round went live yesterday. Proposal submissions are now open on https://www.ensgrants.xyz/.
The current round, Public Goods Round 1, will award 1E to the top five voted projects.
Background
This project started as a thread in the Public Goods category, and the working groups have requested funding for Q3/Q4 in their draft budgets to support additional rounds over the next sixth months.
The goal is to provide a simple, open process for the ENS DAO to fund Ecosystem and Public Goods projects. If this works well, the meta-gov working group would like to support building out additional features, while the Public Goods and Ecosystem would fund rounds for their respective working groups.
Huge thanks to @carlosdp for getting this off the ground.
Submission Timeline
Submissions Open - July, 19th
Submissions Close & Voting Starts - July, 26th
Voting Ends - July, 31st
Submitting a Proposal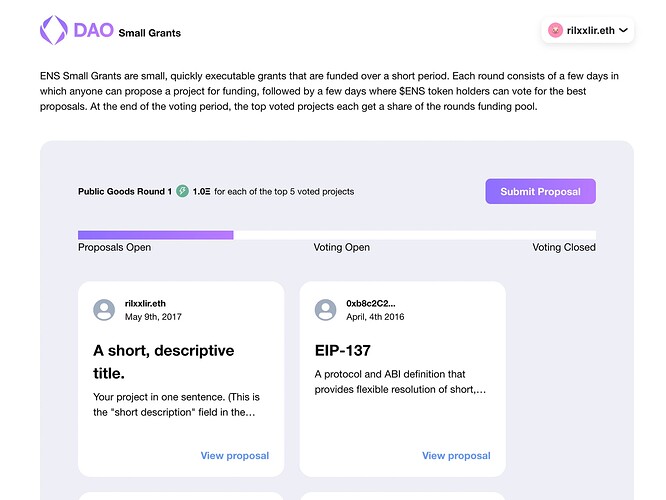 A brief guide on how to submit a proposal has been published on the DAO's Newsletter. If you're looking for additional help crafting a proposal, you can read it here.