@grasponcrypto.eth thanks for taking the time to explore this topic and bring it up.
Nobody wants to discuss the threat and potential of waning participation, but it is important to be considered early to strengthen and improve the DAO.
As a governance team, I would like to speak on the problems of informed voting, user participation, and disparity of delegate control.
Problem: Actual Participation
With over 19.6k members, ENS DAO boasts one of the largest voter communities on Snapshot. The image below shows the disparity of governance sizes and is a testimony to ENS: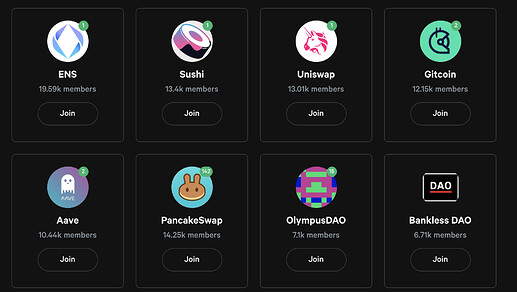 On this metric, I do not think actual participation is decreasing. We are three votes and it is too early to diagnose if there are participation issues. Instead we must promote and watch trends of future votes.
I agree with the solution for this (possible) problem of being:
An example would be Algorand's governance model (linked here). They divide Governance into four epochs and reward participants 15-18% on an annual basis. The only caveat is they must vote on every proposal to be eligible for the rewards. I would point this out as a potential model for our community.
Problem: Less Informed Voters
In my opinion, this is the largest deterrent to governance participation.
The solution could be resources dedicated to creating an education page, where votes and proposals are posted in an unbiased format. This information paired with a UI tool which plugs into Snapshot could create more frequent participation and a smoother voting experience.
I along with others would be happy to provide more info on the creation of this resource.
Problem: Too Much Control To Any Single Delegate
This issue is ubiquitous in DAOs. Early solutions have been incentivizing and allowing redelegation and introducing a limit on a delegate's voting power. However, quadratic voting is something to explore.
Please see below on a visualization of quadratic voting: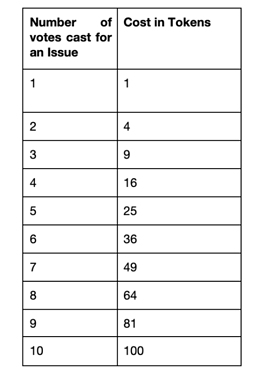 Introduced mid-summer 2021, Vitalik expounded on the idea of quadratic voting for DAOs and protocols (article here). This voting mechanism has been used in actual elections, in Colorado 2020, and has potential outside of crypto.
By adopting quadratic voting, or a modified voting mechanism, ENS could more fairly distribute voting power among delegates and cement itself as a new, innovative DAO.
Instead of modeling off of others, we could be the model.