What is the general gas fee to register an ENS?
I tried to register for an ENS domain, and I got to step 3,
I click on 'register' and my metamask wallet re-open. It shows that the domain cost $5 but the gas fee cost $6666.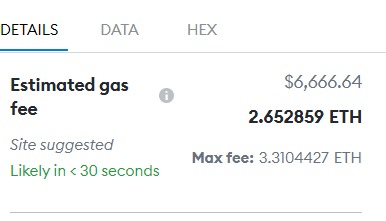 When I tried to change my gas limit to 21000, it failed saying I'm out of gas, But in the estimate, it was still supposed to be an acceptable amount. I up my gas limit to 24000. Same thing happened. So, I'm down by more than $10 for gas fees and with no domain.
This don't seem right. And I noticed that when I tried to make the transfer, there is a "REGISTER WITH CONFIG" on the wallet. What does that mean?
I still want to register for the domain, but $6666 is simply too much for a domain. What is the general price that one pays? My friend said he only paid $5 for domain and $12 for gas fee. What am I doing wrong? Is this a metamask problem or an ENS problem? I still have 6 days to figure out and make the payment.