Summary
Following the success of the Public Goods Large Grants initiatives from last term, the Public Goods working group is announcing the second iteration of the Large Grants platform from our working group.
Q4 2023 Round Details
The Large Grants opportunity from the Public Goods Working Group awards up to 50k USDC to applicable Ethereum or Web3 Public Goods.
This grant aims to provide a pathway for foundational public goods in the Ethereum or Web3 ecosystems to request more significant funding from the Public Goods working group. Foundational Public Goods in the context of this grant have exceptional usefulness or an established record of making an impact for users or developers.
There is a total of 100k USDC funding available this term as defined in the working group budget. Applicants will request a minimum of 12k and up to 50k USDC in the submission form.
Key Dates
Please note there is a rolling deadline for this grant:
October 31st - Submissions received by this date will be reviewed on or before November 8th
November 30th - Submissions close for term. All submissions received by this date will be reviewed on or before December 5th.
December 12th - All grantee disbursements paid.
Note: All dates and deadlines will be based on Eastern Standard Time (UTC−05:00).
Eligibility
To be eligible for this grant, a submission must meet the following criteria:
Is a Web3 or Ethereum Public Good.
The submission should fall into one of three classifications.

Infrastructure - Core technical implementations used by developers or enable Web3 or the Ethereum network.
Tools - Utilities that improve the way we interact with Web3 and Ethereum.
Education - Information, workshops, or resources that foster a better understanding of Ethereum or Web3.

Effectively communicates value, reach or impact by providing supporting information and data.
Is not "ENS Centric."
Note: The working group stewards will determine "ENS Centric" projects and redirect them to the Ecosystem Working Group. Overlap may be acceptable, but usefulness outside of the ENS Ecosystem and previous Ecosystem funding, if present, will be considered in these cases.
Submission & Evaluation Process
Submissions
Submissions will be accepted only via the official form.
Evaluation Process
Stewards will use a simple rubric for evaluating submissions: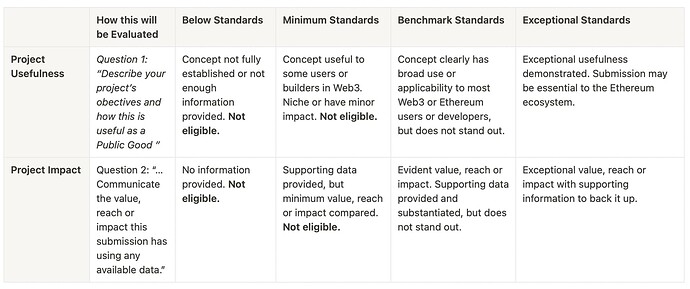 Applicants will be contacted at their provided Telegram if questions or additional clarification are needed.
Submissions that are successful and awarded a grant will be posted in a dedicated forum thread.
Summary of Changes Implemented
Change 1
Submissions in the previous round were subject to more selective criteria, such as a limit on previous funding received. For this term, we are relaxing the criteria while adding additional "follow-through" requirements:
Selected projects must provide two updates on Public Goods calls in the six months following their grant disbursement.
Selected projects agree to commit to at least two self-selected milestone. These will be discussed if a project is selected.
Goal: To increase the number of eligible projects while encouraging continued involvement, participation or growth.
Change 2
Submissions in the previous round had one deadline. In this round, submissions will be accepted on a rolling basis.
Submissions received on or before October 31st will be reviewed by November 8th.
Submissions received on or before November 30th will be reviewed by December 5th.
Goal: To provide more flexibility for both grantees and the stewards. This change allows grantees to receive a decision before the closing date.
Change 3
Submissions in the previous round had a fixed 50k award. The award is no longer fixed.
Applicants will self-determine an award amount between 12k and 50k USDC. Self-selection helps grantees determine a size that works for them.
Goal: Allows flexibility, right-sizing and opens the possibility for more than two awards of the maximum about to be given with the reduced funding available this term.
How to Apply?
---
October 31st Update
A total of eight grant requests have been received and will be reviewed before November 8th. Two grants submitted early have already been selected for approval by the Working Group Stewards.
The lists below will be updated periodically. Grantee Profiles will be posted in a subsequent reply.
October Submissions
| Project Name | Status | Award |
| --- | --- | --- |
| GasHawk | Approved | 40k USDC |
| Ethereum Follow Protocol | Approved | 40k USDC |
| DAOstar | Pending Review | |
| Advancing Web3 Grants | Pending Review | |
| Unitap | Pending Review | |
| mevsharp | Pending Review | |
| Oakchain | Pending Review | |
November Submissions
| Project Name | Status | Award |
| --- | --- | --- |
| Arabic Web3 - Educational Hub | Pending Review | |
| org4everland | Pending Review | |