Summary
As an ENS delegate (flipsidecrypto.eth), Flipside Crypto will be running a 4-week ENS Community-Enabled Analytics bounty program to produce key growth analytics for the ENS ecosystem.
We feel ownership in helping build the future of ENS and a duty to deliver analytics to the community, created by the community.
As such, we have allocated a $25k budget for this program (at no cost to the ENS DAO).
The goal of the initiative is to deliver key analytics, directed and built by the community, to support and drive ENS growth.
Flipside is excited to allocate resources & IP, in order to:
Source questions from the community and turn them into weekly bounty requests
Run structured bounty programs activating analysts to produce robust dashboards and key data insights
Establish a formal quality control process for all submitted analytics to ensure the accuracy and validity of data - bounties will range in difficulty and are paid out based on completion & difficulty level.
Educate new and existing community members about $ENS and the broader ecosystem
What is Community Enabled Analytics?
Community-Enabled Analytics (CEA) is a free analytics solution combined with an extensive bounty program, designed to reward community members for learning about, analyzing, and publishing blockchain data.
Notable features:
SQL query-able, pre-modeled and labeled data with visualization studio - free to all end users.
API ready - each query automatically generates a configurable, read-only API endpoint that allows data to be piped to any supporting service (including Google Sheets & Research, Tableau, Python, R, and others)
All data is downloadable via CSV.
Multi-chain support including Ethereum, Polygon, Terra, Algorand, & THORChain, with Arbitrum, Harmony, and more EVM compatible chains coming soon.
Community Requested Queries - a format for the community to ask for specific queries to be developed and produced on-demand.
Community members receive bounty rewards in the native token to utilize the product, conduct complex analyses, and build compelling tools to support ENS and the broader crypto space.
CEA Benefits & Output
While analytics are a direct benefit and output from CEA (which we will cover more below), the program's core value-add extends beyond these tangible deliverables:
User Acquisition
CEA creates a user acquisition funnel, which has proven elusive in Web3.
The program attracts, onboards, and activates new community members through bounties, scavenger hunts, and the creation of deliverables and key marketing materials.
Token Retention
The program delivers $ENS directly into the hands of community members helping grow the protocol. Token retention from CEA far exceeds comparative liquidity mining (LM) and traditional airdrop mechanism intended to drive user acquisition and protocol growth.
See below for key retention metrics in past programs: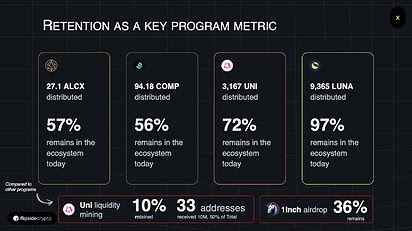 CEA Program Outputs
The power of CEA is the variety and depth of analysis that can be performed.
From research reports to custom dashboards (both built with API or a visualization studio), CEA analysts can deliver on whatever analytics the ecosystem needs most.
Some examples of community-produced dashboards & research:
The Ask
Your time and brainpower

This program will be provided free & open to the ENS community.
All bounty rewards will be paid out in $ENS.
We have developed a question tool (see link below) to help source bounty topics and identify data needs by the community.
How to get involved?
Step 1. Get Your Voice Heard!
Submit the most pressing data & analytics questions to the ENS community here in our ENS Question App: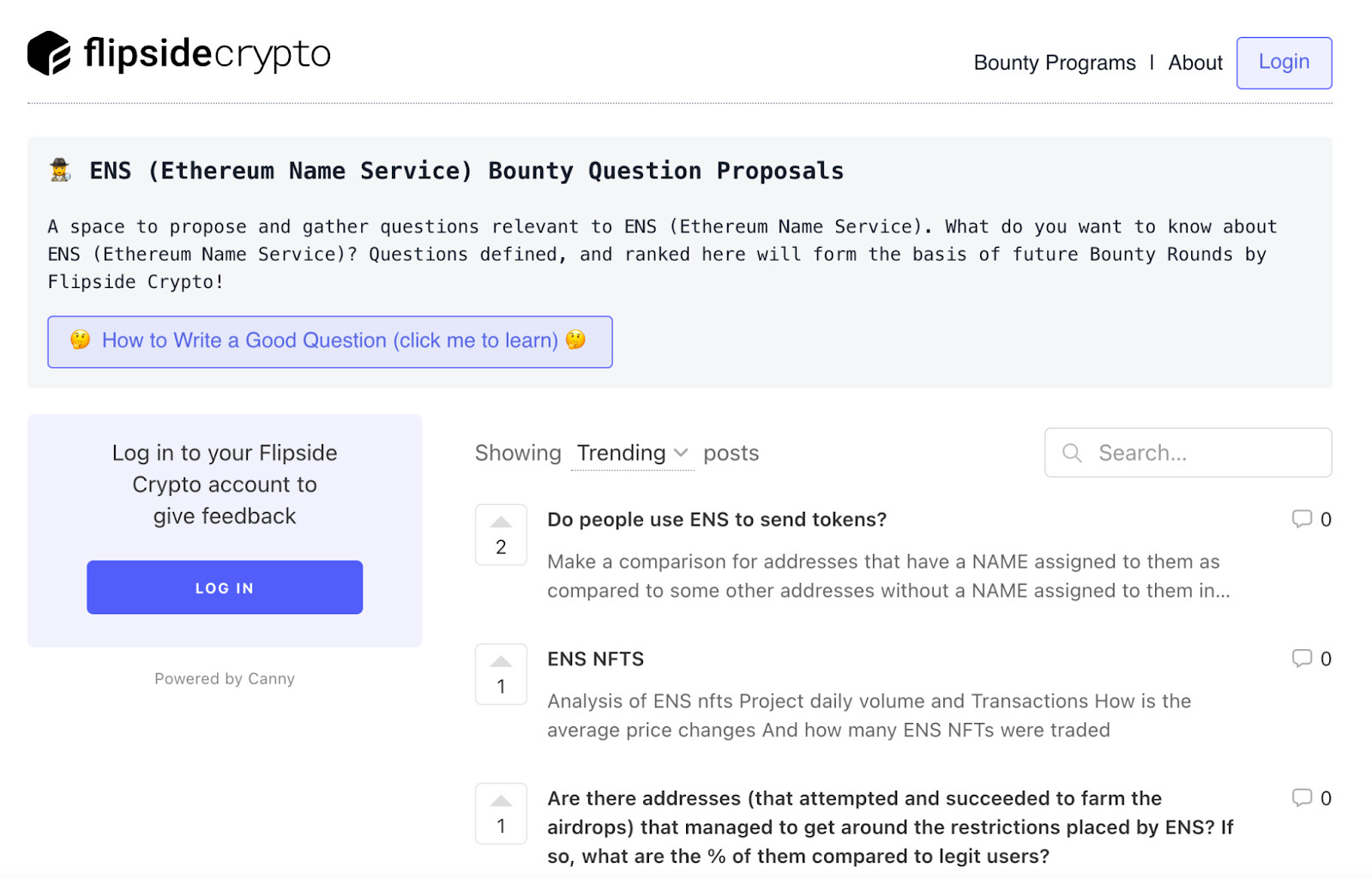 You can see a list of the trending bounty questions currently. This portal will populate with more use and is made better by users like you!
Step 2. Sign-Up!
You can join our discord here, and get free access to our platform here.
Step 3. Participate!
Head to our bounty notion page to claim and build ENS bounties!
Who We Are:
Flipside Crypto is proud to be an ENS DAO delegate, representing 3.66k delegated votes.
As a delegate, we remain committed to improving the future of ENS and to contributing resources directly to the ecosystem, the first of which, has been our governance team.
Flipside Crypto Governance (FCG), established in September 2021, has been created to directly support, contribute, and drive participation in our partner communities - helping improve the efficiency of this critical piece of protocol health. We are three strong (@avi @fig & @flipsidenate) operating in a range of DAO and communities such as - Aave, SushiSwap, ENS DAO, and OlympusDAO. We are committed to using this team and experience to improve DAOs one proposal at a time.