Hello ENS Community
It's been a while since we last updated the community, but the Metropolis team wants to take a moment to share a bit on how ENS DAO uses Metropolis pods and how you can use pods to track what's going on in the ENS ecosystem!
What are pods?
Pods put working groups on-chain, which creates an organizational "source of truth". Technically, pods are a permissions wrapper around Safe multi-sigs, which enables signer management – but pods have other features as well, like dedicated ENS names which also serve as the pod page URLs. Every steward working group and related sub-group in the ENS ecosystem is a pod. You can read more about pods here.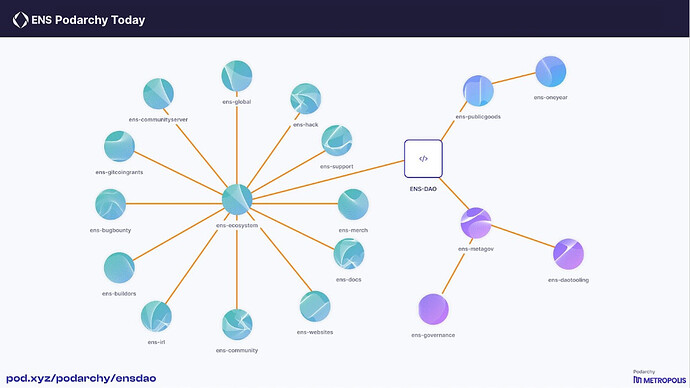 How can you use pods?
Navigate the ENS ecosystem
All community members and participants can benefit from pods, even if you are not a steward or sub-group member. Anyone can explore ENS DAO's podarchy, which visualizes:
ENSDAO's pods
Accountability structures (pod managers can add or remove pod members unilaterally)
"Lenses" - additional data layers that provide high-level organizational context such as individual pod membership and finances.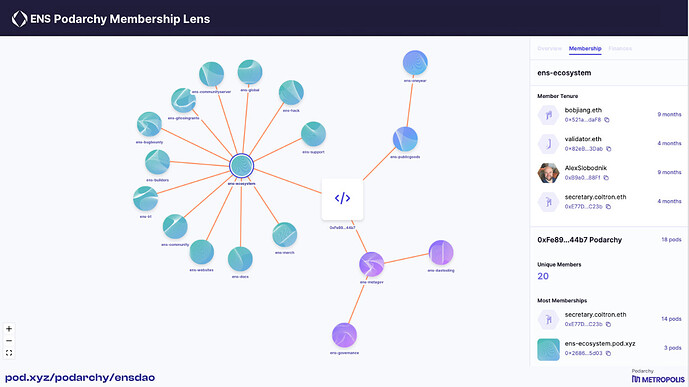 The podarchy is a perfect complement to other fit-for-purpose tools the ENS community leverages, such as the ENS DAO Agora site, which focuses on delegation.
Day-to-day operations
If you are a steward (old or new) or a sub-group member, you may already use our web app to modify pods, sign transactions, and manage memberships.
Integrations
In addition, we have a few integrations with leading DAO infrastructure. One example is our integration with Tally - which allows you to create on-chain proposals to ratify the results of working group steward elections, onboarding and empowering new stewards with ease.

What does the future look like for pods within ENS?
There is so much still to come. From adding new podarchy lenses to creating secure on-chain organizational frameworks for service providers to plug into (e.g., a pod implementation to support the ENS endowment manager) - we excited to continue supporting the ENS ecosystem.
We'd love to hear from you!
We've had the pleasure of working directly with several wonderful ENS community members to get feedback on pods, but we haven't had an opportunity to talk with most of the ENS community participants. Whether you're a working group member, a forum lurker, or an avid ENS governance participant – we'd love to hear what you think! Please jump into our support and feedback channels in our Discord.