Elected Stewards : @slobo.eth, @Ginge.eth, and @bobjiang
Time : 1AM GMT
Google Meet link : https://meet.google.com/oaj-qrgv-var
A) ENS Project highlight:
@ensregistry registrations bot on Twitter since Jan 5th (130,800 tweets total / 1440 tweets per day / 18 ensnames per tweet during peak times) @stevegachau.eth
B) ENS core updates, if any
C) Review any upcoming events with ENS involvement
D) Steward Nominations are open
E) Review Proposals
F) Budget Update
What was spent?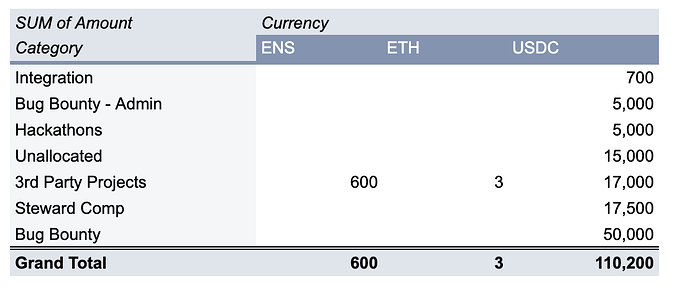 What was the budget?

*Hackathons has 5,000 USDC pre-allocated to eth new york
Budgets were moved around per discussion with stewards to facilitate ecosystem operations.
What's in the multi-sig?
https://etherscan.io/address/0x2686A8919Df194aA7673244549E68D42C1685d03
Additional agenda items welcomed.