Hello!
Hello and welcome to the Ethereum Name Service DAO Newsletter!
---
Newsletter Roundup (TL;DR)
Ecosystem Grants: Round 9 is live. @delegates can review submissions and vote.
Public Goods Grants: recipients announced, disbursement scheduled for next week.
Events: ETH Global events in Waterloo, Barcelona, Paris, and CC.
Town Hall: Q2 ENS Town Hall on June 29th. — Sign up here.
Proposals: EP3.7 is on Snapshot, vote now. Extend ENS DAO to EIP-4822 pending.
Draft Proposals: ENS invalid names, platform source parameter, treasury swap, P256 precompile.
Steward Elections: View the results for Q3/Q4 working group steward elections.
ENS Web Update: V3 App release, Name Wrapper updates, and security updates.
Community: Python implementation of ENS Normalize. Avatar Sync for ENS.
Integrations: NickGPT live on ENS Discord, Ledger Live, Skiff Mail integration with ENS.
—
ENS Calendar
For the most up-to-date schedule of events, refer to the ENS Calendar.
Any other sources are not guaranteed to be accurate.
See also: ENS DAO Q1/Q2 2023 Term Dashboard
—
Current Events
Another ENS Ecosystem Small Grants (Round 9) is live! @delegates can now review the submissions and vote. The top seven proposals will receive 0.7 ETH each.
The deadline for submissions is June 17th.
Submit your proposal and cast your vote at ensgrants.xyz.
—
Upcoming Events
—
| Proposal | Discussion | Vote |
| --- | --- | --- |
| [EP3.7] [Social] Approval of ENS Name Normalization Standard (ENSIP-15) | Open | Active |
| [Draft] [Executable] Extend ENS DAO to EIP 4824 | Open | N/A |
For details on the ENS DAO proposal process see our Governance Docs.
—
Drafts
—
Results — Q3/Q4 2023 Working Group Steward Elections
The steward elections for Q3/Q4 2023 have closed. The following individuals will take on the role of steward for their respective working group on July 1, 2023 at 9am UTC.
If any incoming stewards have questions about working groups, please reach out to @alisha.eth.
Responsible for growing and improving the ENS Ecosystem.
Supports DAO governance initiatives and treasury management.
Responsible for funding public goods in web3.
—
ENS Labs Updates
ENS Web Update
The inaugural, May, release of the monthly @ensdomains Web Update is here. Check out what's new:
V3 Release and some interesting history.
Namewrapper updates and UI/UX changes.
MetaMask/Firefox Security Update.
Read: ENS Web Update April/May 2023.
—
ENS Town Hall
The Q2 ENS Town Hall is scheduled for Thursday, June 29th — the conference will be live streamed to YouTube. Working group calls will be suspended that week and will resume the following week.
If you or someone you know is interested in presenting, reach out to @alisha.eth on Twitter.
—
.box domains
@nick.eth announced .box, "the first Blockchain native DNS-routable TLD" enabled via ENS — the service offers Web3-Web2 compataible domains. All registrations and transfers are on-chain, and enable both DNS and ENS name ownership.
—
Updates on ENS Support
The ENS Support team have introduced a new support docs structure which aims to provide a more streamlined support experience for users and devs. @cthulu.eth also announced that the support team will move away from Twitter and onto the ENS website via a new chat widget.
—
ETH Global Virtual Hackathon
ENS sponsored $5000 USD equivalent in prizes for HackFS; the hackathon that is currently under way, and winners will be announced later this month.
—
ENS Podcasts and Spaces
ENS Core team members hosted several spaces throughout the fortweek, listen to the conversations:
—
ENS Grants Highlights
ENS Ecosystem Large Grants
The ENS Ecosystem Working Group is currently accepting applications for their large grants tier ($2k - $50k equivalent) on a rolling basis. You may submit an application at your own discretion.
Please note, the evaluation window may take four weeks or more. Patience is greatly appreciated.
—
ENS Ecosystem Small Grants
Another ENS Small Grants round is now live. The deadline for submission is June 17th, and the top seven proposals will receive 0.7 ETH each.
Submit your proposal now at ensgrants.xyz.
—
Public Goods Large Grants
The Large Grants initiative by the Public Goods Working Group supports impactful Ethereum or Web3 projects. Submissions are ongoing on a rolling basis, excluding ENS-centric projects. The evaluation involves review by working group stewards. KYC/AML process is required for fund disbursement. Find detailed information and the application form on the provided Notion page.
This round's grant recipients will receive payouts next week and present to the ENS community. Unselected submissions will be offered alternative grants streams and can participate in weekly working group calls.
—
Grants Recipients
Ethereum Cat Herders
Assisting Ethereum core developers with project management, communication, and coordination since 2019.
Website: ethereumcatherders.com
wagmi
React Hooks collection for working with Ethereum. Enables the Connect Wallet button in many apps.
Website: wagmi.sh
SheFi
Supports women and non-binary contributors, entrepreneurs, builders, and leaders in Web3.
Website: shefi.org
TEC Token Academy
Provides free online courses and a learning community in token engineering.
Website: tecommons.org
—
Community Updates
Python Implementation of ENS Normalize (Update)
Last month, @lightwalker.eth announced Python ENS Normalize. Developed by Namehash, the implementation is based on the upcoming Name Normalization Standard developed by @raffy (Vote for EP3.7 now). This library enables Python devs to normalize ENS names; the implementation makes it easier to integrate ENS into applications built on Python.
@djstrong have created an issue in the web3py repository and are now preparing the Pull Request. The NameHash team have also been encouraged to submit an application for a retroactive grant, as part of the ENS Ecosystem Working Group's Large Grants initiative.
Visit Namehash and give it a try for yourself.
—
Avatar Sync for ENS
Prolific builder @stevegachau.eth announced Avatar Sync for ENS. With a single initial transaction, users can ensure that their ENS avatar consistently reflects their latest Twitter profile picture.
Sync your avi now.
—
Makoto at BUIDL Asia
@matoken.eth joined a panel at a BUIDL ASIA 2023 event and provided insights into the potential of decentralized social media. Makoto emphasized the significance of ENS names, which offer a social system capable of bridging the gap between off-chain and on-chain activities.
This innovative approach enables individuals to connect their social interactions seamlessly within the blockchain ecosystem. By sharing this vision, Makoto shed light on the possibilities and implications of decentralized social media for the future.
—
Integrations
NickGPT
Introducing the launch of NickGPT, a playful experiment that will be available for a limited time in the ENS Discord. This little bot has been trained on the ENS documentation and can provide answers to various questions regarding ENS. Special thanks to @kodex_io for developing this.
Jump into the Discord and try it now.
—
Ledger Live
ENS has been integrated into Ledger Live. This collaboration brings an exciting new feature for users, as they can now use ENS names, which serve as human-readable versions of Ethereum wallet addresses, when transferring assets. With this integration, managing and transferring digital assets has become more streamlined and user-friendly than ever before.
To learn more about the integration, read this helpful thread published by Ledger and listen to their discussion on Twitter Spaces earlier this month.
—
Skiff Mail*
Did you know you can send and receive email via your ENS name?
Skiff Mail is an end-to-end encrypted, private email service that allows you to sign up with a wallet and automatically add your ENS name as an email address.
iOS users can choose Skiff as their default mail app, to conveniently use their unique ENS name as a primary form of contact.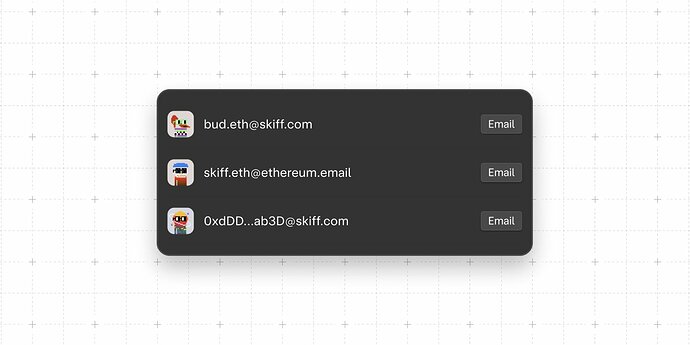 For a limited time, Skiff is giving all ENS holders an additional 1 GB of storage for free! Sign up via app.skiff.com/signup today to claim your 1 GB, and make sure to use a browser with your wallet extension installed.
*Sponsored segment.
—
Working Group News
ENS DAO Working Group Schedule (Q1/Q2 2023)
—
The Meta-Governance working group hosted its weekly meetings on June 6th and 13th.
—
Core Updates
—
Financial Reporting
—
The Ecosystem working group hosted its weekly meetings on June 1st, 8th, and 15th.
—
Core Updates
—
The Public Goods working group hosted its weekly meetings on June 1st, 8th, and 15th.
—
Core Updates
—
Term 2 Outlook
The Public Goods working group previously faced funding limitations and challenges using Gitcoin as a standalone measure of impact. To address this, they focused on building platforms like small grants and began introducing different grant models. Stewards and the community played a crucial role in promoting these opportunities.
As the current phase ends, an evaluation will assess successes and failures to guide the next evolution of Public Goods. This evaluation is Step 1, and its insights will inform the team's next steps.
Step 2 involves expanding into new, unexplored groups, with uncertain possibilities and outcomes. This represents the next phase of exploration and impact. The goal is to raise awareness about the opportunities provided by ENS & the ENS DAO Public Goods working group.
—
Security Tip
Check out this helpful thread for information about some of the latest scams, and ways that you can protect yourself.
—
Fundamentals
Governance
Discuss
Contact
–
Thank you very much for reading! Take care.