In my continued quest to get a self sustaining community of frontends for ENS, here's an updated dune dashboard
now properly tracking ENSIP14 registrations.
Here's some interesting conclusions: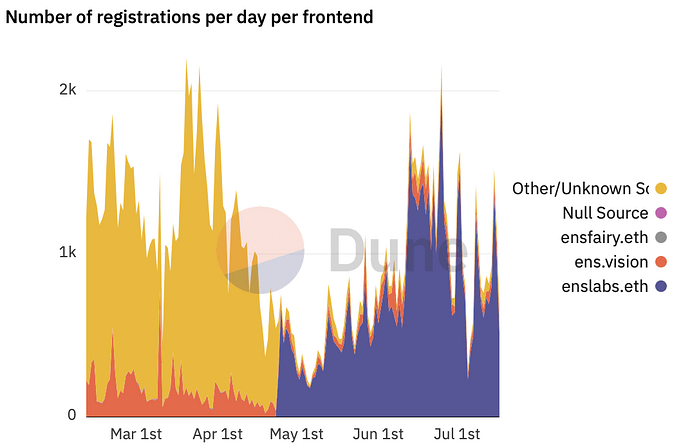 With ENS Labs embracing ENSIP14 at the end of April, now most of the registrations currently are ens14 compliant, meaning that we can reliably track most of the registrations.
While ENS Labs official frontend is clearly the most commonly used, ENS.vision has managed to register an impressive total of 18k collective ENS years. If we ignore short names and extra prices for recently released names, that would mean they have, through their frontend, brought at least USD$90k in new registrations for the DAO.
Registrations are down since the beginning of the year, but not by that much and ENS is so far doing well in the market.
On Referrals
I would urge and would like to ask that the current Ecosystem working group steward consider using this information to base an experimental recurring revenue sharing program. I would naturally exclude Ens labs from it (since they are already receiving large grants from the DAO) and create different tranches depending on how many names were registered (so that if someone wanted to get referrals to themselves, it would basically work like a volume discount).
Hope this helps!