Hey all,
After yesterdays events and todays call with ENS stewards & delegates we wanted to create a forum thread where we're able to coordinate next steps, both immediate and possible;
Firstly, for context, this post has come as a result from tweets recently brought to light from Brantly, followed up by a 'doubling down' of position from tweets and twitter spaces.
Relevant Content: Original Tweet: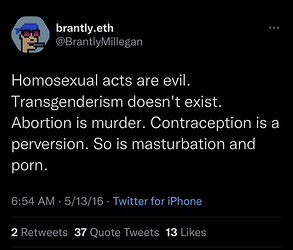 Follow up tweet
,
Recording of most of the twitter space
Secondly, with EP4, ENS stewards have the ability to remove other stewards from working groups if a majority agrees. As this post outlines, @spencecoin , @Coltron.eth, @Limes and @validator.eth are voting on if Brantly will be removed from the community stewards group.
Next, the group feels it's important to create a safe space supported by ENS for the community to talk about the events that have happened, currently a twitter space is being coordinated with @alisha.eth and a diverse collective of the ENS community.
Finally, we want this thread to act as a planning hub for what happens next, ideas that have been discussed include (but are certainly not limited to):
Immediate suspension from leadership roles while the community is consulted and next steps are formed,
Asking Brantly to step down from his leadership roles at ENS,
Removal as a director from the ENS foundation (through DAO vote),
Removal from True Names Limited (something @nick.eth would have final say over but has communicated he has full intention of following the DAOs vote)
This post is the collective action of the ENS stewards, delegates and wider community.