Purpose
The Metaphor team would like to launch an experiment within ENS DAO to see if the community can operationalize a small grants program, similar to the successful Nouns Prop House! I DM'd with that team to see if we could fork their project, it seems they aren't yet open source and they are currently focused on expanding within the Nouns / NFT community.
Metaphor proposes to the Public Goods Working Group quickly building ENS's version of this project to allow working groups to setup a low-friction way to ask the DAO for small/starter funding for public goods and/or ecosystem projects. Our theory is that making the funding mechanism straightforward, forced (as in, someone is going to "win" the funds, so might as well put your idea forward), and ideally consistent could result in a good cadence of contribution to the DAO and public goods.
Details
For those that haven't seen the Nouns Prop House the way it works is like this:
Funding rounds are created lasting 1-2 weeks, with some relatively small amount of ETH (5-20 ETH, for example)
Anyone can submit small proposals during a "proposal period", via the app, for either small projects or "seed money" to prove out a piece of a larger proposal they want to create. You can see examples in the current and previous Nouns rounds
Token holders (in our case $ENS) can vote on their favorite proposal in a "voting period"
At the end of the voting period, the top 3 (or 5, or 10, depending on the round fund size) are automatically funded!
This is a rough sketch of what ours could look like (this is not a final design, I haven't had my design team work on this yet, just my prototype to illustrate the idea):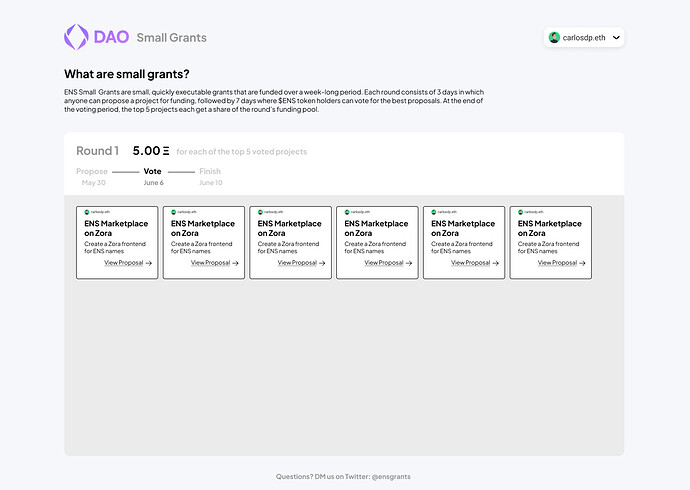 Here's a full Figma prototype of the general experience outline that you can click through: Prototype
Implementation
For this initial implementation, our core concern is speed of implementation. We want to get this ready for a working group to use in ~2 weeks. With that in mind, this is how we plan to build this:
Permissively licensed and fully open source, built in the open from day 0
Build on top of Snapshot for voting backend. On-chain would be a great ultimate goal (on an L2 or something like Snapshot X), and if we get to that point we would love to go and collaborate with the Prop House team on it so we aren't duplicating work. We'll use @serenae 's delegation strategy, so delegates have their voting power, but people who have delegated their tokens can decide to take their votes back and vote for a different proposal!
Start with simple voting, just like Prop House. Potential down the line for playing around with voting mechanics, like quadratic voting or conviction voting.
Proposals stored on Arweave
Snapshot creation will either be manual, or handled by a small web2 function. Again, all open-source.
Budget
We're looking for a $10k (stables or ETH or w/e) grant from the Public Goods WG to lead this effort and ship quickly. 50% upfront, 50% on completion (discussed with the WG in meeting).
I also want to make clear that our proposal is to lead this project getting started, but we welcome and would love if community members wanted to get involved, and would make sure to compensate anyone that does from the allocation on completion
Thanks for reading! Looking forward to any questions or comments and to shipping another ENS project!

Our Team
Metaphor is a venture-funded team working on making it easy to join and participate in DAOs. We're also in the top 30 of ENS DAO delegates, stemming from our work on the first ever app that let people set their ENS avatars, davatar. We have a proven track record of shipping projects like this to benefit ENS, and are already incentivized to help the DAO in any way we can.
We seek a small funding amount mostly to make sure the working group really feels this is a worthwhile endeavor, and to have a small budget to compensate any community contributors, infra costs, etc.

FAQ
(will update with any other good questions)
Why build an app at all instead of just using Snapshot?
You theoretically could do that, but the Snapshot UI isn't optimized for that (you'd have to put all the proposal text linked from the "main" snapshot proposal, for example). We also hypothesize that part of the success of Prop House is that it makes this a "fun" experience, instead of feeling like governance (even though it really is).
Reference