UPDATE (15 June)
The results for the Steward elections for Q3/Q4 are:
Public Goods: anthonyware.eth, ceresstation.eth, and avsa.eth
Community: limes.eth, coltron.eth, and validator.eth
ENS Ecosystem: bobjiang.eth, validator.eth, and slobo.eth
Meta-Gov: coltron.eth, simona.eth, and nick.eth
You can visit this post for the results. Below is a screenshot of the results.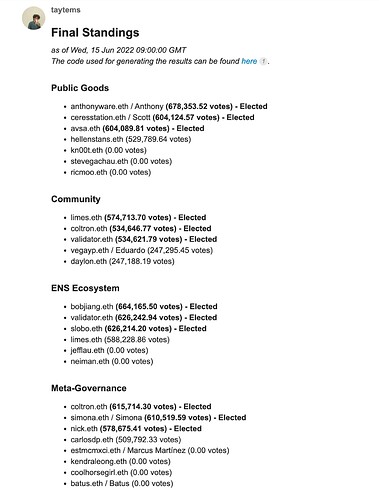 ---
ENS DAO Steward elections for the Second Term of 2022 (Q3/Q4 2022) are now open.
Voting closes at 9am UTC on June 15.
Please vote on Snapshot.
Snapshot links
Meta-governance Steward Election: Q3/Q4 2022
ENS Ecosystem Steward Election: Q3/Q4 2022
Community Steward Election: Q3/Q4 2022
Public Goods Steward Election: Q3/Q4 2022
Important points
Three stewards will be elected for each working group.
Each working group has a separate vote (see links to Snapshot above).
Voting is open from 9am UTC on June 10 to 9am UTC on June 15.
Elections are conducted by ranked choice voting.
At the conclusion of the voting for each working group, the three candidates ranked highest will be elected as stewards of that working group.
The results displayed in the Snapshot UI are not an accurate reflection of current results. Please consult this thread for periodic updates on the current rankings.
Notes on Ranked Choice Voting
To vote, rank candidates in your preferred order, with the candidate you most want to see elected as a steward ranked first.
Steward nomination statements
You can read through the nomination statements of each candidate in the relevant Working Group (WG) posts:
Meta-Governance WG steward nomination
ENS Ecosystem WG steward nomination
Community WG steward nomination
Public Goods WG steward nomination
---
Once a Twitter Space to hear from nominees has been scheduled, details will be added here.
Please reply with any questions below.